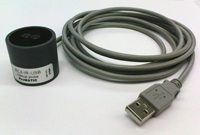 RC4-IR-USB probe is an IR optical interface that supports asynchronous serial communication between meter devices and computers equipped with USB port. It meets all IEC62056-21 (former IEC61107) requirements for dimension, optical, electrical, magnetic features, data formats and communication speed.

Electrical connection to PC computer is achieved using USB connector, while connection to meter devices is IR optical.USB provides power for optical interface, no external supply is needed.

Magnetic force (permanent magnet) is used for retention on meter devices.